Kontakta oss / Köpvillkor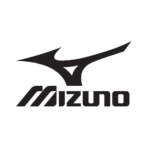 falbergolf.com
Mizuno Golf Specialist
Mizuno Performance Fitting Centre
Bystrcka 38
CZ – 624 00 Brno
VAT number: CZ26956608
ID: 26956608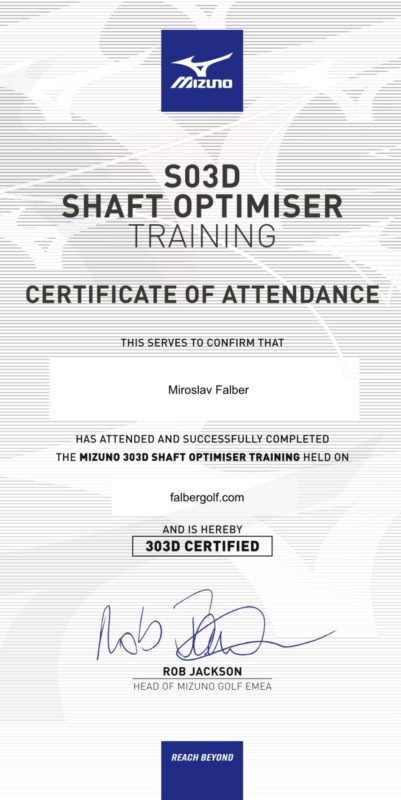 Mizuno Golf 
Certification
Mizuno Swing DNA Fitting center
Mizuno's Swing DNA player profiling system now builds a full bag recommendation – beyond irons to driver and wedges.  From just 3 swings the new Shaft Optimizer 3D records five critical data points to recommend shaft, lie angle, set make up and golf ball.
CUSTOM FITTED, CUSTOM BUILT
Mizuno builds custom equipment to industry leading precision. Our European custom assembly line in Cumbernauld Scotland was established to the same working practices as our original plant in Yoro Japan, yet we commonly dispatch within 5-7 working days of receiving orders (parts allowing).
TAKE 3 SWINGS
Strain gauges within the Shaft Optimizer record how you move the shaft. Golfers are generally surprised how consistent their 'good' and 'bad' swings are. Variation in the result is nearly always down to inconsistency of strike.
ENTER YOUR DATA INTO SWING DNA SOFTWARE
Your fitter will take data from your 3 swings of data and enter into the Swing DNA software. The software will recommend a lie angle and align your unique DNA with a map of custom shafts independently measured and assessed by Mizuno.
RANK EVERY IRON SHAFT FOR SUITABILITY
Our Swing DNA software will rank every available iron shaft (based on their EI curves) as best to worst theoretical match against your swing profile. The new software shows every available shaft in order of suitability.
TEST THE RECOMMENDATIONS
Your Swing DNA shaft selection is based on science. After hitting the recommended options your fitter will be able to show you real world distances and dispersion. You may decide to promote a lower ranked shaft based on feel and sound. You may even prefer a non-optimal flight that suits your eye. You make the final decision.
WHAT CAN WE RECOMMEND?
Once we have your unique Mizuno Swing DNA – our software is able to recommend custom set ups for irons, wedges, hybrids, driver and golf ball. Our DNA software suggests 3 best matched shafts to test – but there are also human factors (e.g. feel) that can override the recommendations. The final decision is always down to the player.
Terms and Conditions
Terms of Use
falbergolf.com is genuine Mizuno Performance Fitting (MPFS) account in UK reg. TR501 and approved Mizuno Performance DNA fitting Center
This site is owned and operated by trip.travel, s.r.o. under domain name falbergolf.com. These terms of use apply to and govern your, and any authorized user of your account, use of this site, including all services provided therein ("site"). Your use of this site signifies your agreement to be bound by these terms of use. If you do not agree to be bound by these terms of use, do not access or otherwise use this site. falbergolf.com reserves the right, at its sole discretion, to change, modify, add or remove any portion of this site or these terms of use, in whole or in part, at any time. Changes to these terms of use will be effective when posted. You agree to review these terms of use periodically to be aware of any changes. Your continued use of this site after any changes to these terms of use are posted will be considered acceptance of those changes. Before using this site, review the falbergolf.com Privacy Statement.
Return Policy
falbergolf.com will exchange or refund merchandise purchased through our retail stores, catalog, or website, within 14 days of product receipt, accompanied by the original sales receipt and in new, unused condition - for stock items.
Exceptions and Exclusions
falbergolf.com reserves the right to limit or refuse the return of certain merchandise, such as special or custom orders, custom clubs, assembled or altered components, personalized item. Free goods, received as part of a promotional offers or a sale are not eligible for exchange or return. Used merchandise may also be refused.
Customised or Personalised Products (Custom Fit)
Customised and Personalised Products (Custom order - all golf clubs offered on falbergolf.com)
do not fall under our standard returns policy
therefore please read through our terms and conditions below.
Customised or Personalised orders cannot be cancelled once the job has been passed to the supplier
Full payment will be required prior the job being confirmed by the supplier
Lead times are used as estimates only and we have no control for delays that happen with the suppliers or manufacturers
These products are specially manufactured/altered by the authorised supplier of the product or by a third party appointed by the supplier. Most items are made up from components to your specification in their customisation workshops. This means the lead time for customised products from our suppliers is an average of around 30-90 days. 
Once a customised order has been placed it cannot be cancelled nor refunded. It is your responsibility to check and confirm the full specification displayed prior confirmation of your order.
Once the manufacturing process has begun we cannot make any alterations and you will have no choice but to accept the product as delivered.
Warranty Claims/Defective Returns
Warranty claims are subject to the discretion of the original product manufacturer. Warranty information is included with many manufacturer's products, or may be found on their respective website. Any Defective product may be returned anytime while under the manufacturer's warranty period.
Shortages
Many orders ship in multiple cartons and may arrive days apart, so check your packing slip before calling us to report a shortage. All claims for shortages must be made with the carrier within 10 days of the invoice date.
How to Return Merchandise
Products may be returned to any falbergolf.com store. To return an item to our Distribution Center we encourage you to re-use your original shipping carton. Please note the reason for your return on your packing slip, and enclose the slip in the shipping carton. If you do not have your packing slip, please include a separate piece of paper containing your printed name, address and phone number or email address, the order number, and the reason for the return or exchange. If the exchanged item will cost more than the original item ordered, please include a method of payment to cover the difference.
Wrap the package securely and send it to the following address:
falbergolf.com
Mizuno Golf Specialist
Bystrcka 38
CZ 62400 Brno
Trademarks
Many of the marks found throughout the website are marks of falbergolf.com, whether registered or pending registration in the U.S. or foreign countries, or whether rights have been acquired solely through use of the marks. Use of the trademark symbols "®" or "™" is limited to one or two prominent trademark usages for each mark per page. However, falbergolf.com still retains rights in the mark whether or not the " TM" or "®" is used. Use of these trademarks is prohibited unless otherwise authorized in writing by falbergolf.com. Pursuant to certain requirements of distribution partners, falbergolf.com has included the "™" and "®" symbols on the first or most prominent use of distribution partners' trademarked terms.
Copyright
The copyright in all material provided on this Site is held by falbergolf.com or by the original creator of the material. Except as stated herein, none of the material may be copied, reproduced, distributed, republished, downloaded, displayed, posted or transmitted in any form or by any means, including, but not limited to, electronic, mechanical, photocopying, recording, or otherwise, without the prior written permission of falbergolf.com or the copyright owner. Permission is granted to display, copy, distribute and download the materials on this Site for personal, non-commercial use only; provided you do not modify the materials and that you retain all copyright and other proprietary notices contained in the materials. This permission terminates automatically if you breach any of these terms or conditions. Upon termination, you must immediately destroy any downloaded and printed materials. You also may not, without falbergolf.com permission, "mirror" any material contained on this Site on any other server. Any unauthorized use of any material contained on this Site may violate copyright laws, trademark laws, the laws of privacy and publicity, and communications regulations and statutes.
Mizuno Golf Custom Options
Lengths / Swingweights
For most iron models Mizuno offer lighter weight heads which can be used to keep the swing weight to a standard balance for club lengths up to +1/2″ longer. Anything longer than that and the swing weight will increase above the recommended balance. (As a rough calculation, every extra 1/2″ in length will increase the swingweight by 3 balance points).
Irons can be built from 1″ shorter than standard up to a maximum of 2″ longer than standard. Woods can be built +/- 1″ from standard length but the swingweight will increase by 3 points for every +1/2″ and reduce by 3 points for every -1/2″.
Loft and Lie adjustment
Mizuno irons can be adjusted to varying degrees depending on model and material type. In some cases, due to the softness of our forgings, "craftsman's" marks on the hosels may result from bending them to the required loft / lie.
Any adjustment to loft will alter the bounce angle on the sole. Making the loft stronger will increase the offset and reduce the bounce angle. For possible adjustments to particular models, please refer to the model page. Iron lofts can be adjusted up to 2 degrees stronger than standard (note: making the loft stronger willincrease the offset and reduce the bounce angle of the sole). No loft or lie adjustments can be made to drivers or fairway woods.
Grips / Grip thickness
Mizuno fit .580 core grips as standard to all men's steel shafts with the exception of Dynamic Gold R300 (as they have a smaller butt size a .560 is used). Grips can be thickened with up to 5 layers of tape (Tour Velvet Midsize is equivalent to about 5 tapes).
European custom equipment is assembled at Mizuno's Cumbernauld Facility, in Scotland
Custom Fit Options
European custom equipment is assembled at Mizuno's Cumbernauld Facility, in Scotland – the home of golf. This ensures the quickest possible service within Europe, whilst maintaining strict quality control.
Procedures and working practices strictly follow those of Mizuno's custom line in Yoro Japan. The Scotland factory is know as 'little Yoro' within Mizuno.
Within the UK custom iron sets are despatched within 5-7 working days of receiving a European order. Delivery times will vary dependent on retailer's location and working practices.
Mizuno Golf Specialist – UK, Ireland, Netherlands, Sweden, Norway, Finland, Island, Denmark, Estonia, Denmark, Germany, Austria, Switzerland, Belgium, France, Italy, Poland, Czech, Slovakia, Slovenia, Croatia, Hungary, Monaco, Spain, Portugal, Spain, Croata, Bulgaria, Romania, USA